The second quarter has been a busy quarter for Appsumer's ever growing Product and Engineering teams, with a number of new releases to make your life easier. We just want to quickly wrap-up some key developments that you can start using today.
Goals for dashboard tiles
The nature of mobile performance advertising is that everyone has goals and targets. We've made it easier than ever to start tracking progress against those goals on your dashboard's number tiles.
On any single stat tile you can now set a conditional color based on the number. Whether it's turning CPI red when over, orange when on target or green when under or doing the inverse with your ROI target, we have the flexibility to accommodate. 
Want to set goals on your dashboard tiles? Watch the handy video below from Clement, our Head of Product, below or read more in the help center to get started.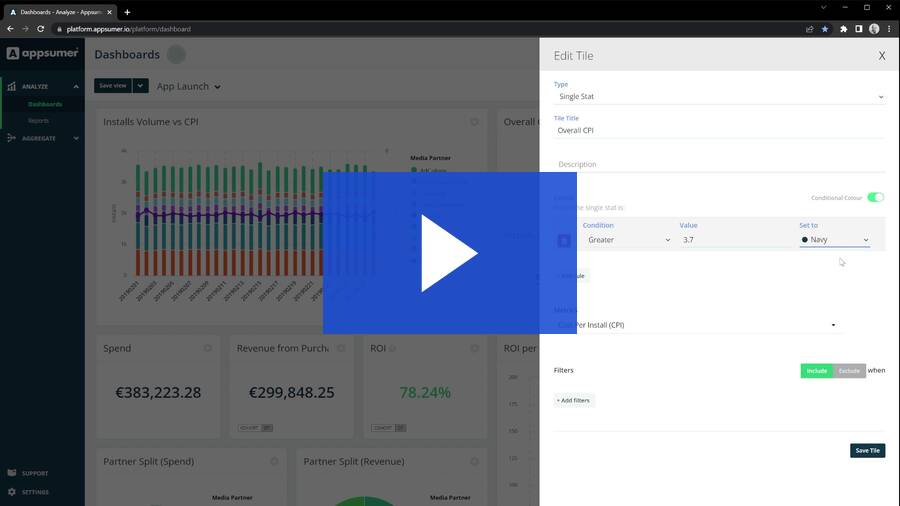 Metric context labels
Whilst the flexibility of Appsumer's data ingestion means you can get exactly the metric you want displayed the way you want, that flexibility can also create confusion for an end user about what metric they're actually looking at. With SKAdNetwork (SKAN), this challenge has only been heightened.
That's why we've just launched context labels for metrics on your dashboards. There are three types of contextual labels that can now be added to your dashboard tiles:
Metric Source Type:

A label on the tile indicating the source of the data for the metric to help you differentiate Mobile Measurement Partner (MMP) data from SKAdNetwork (SKAN) data.

Metric Type:

Because cohorted metrics are such an important part of Appsumer for many of our customers, we can also label whether a metric is an activity metric or cohorted (including the period e.g. D3, D7, D30 etc).

Metric Definition:

A tooltip when hovered with a more detailed description of how the metric is calculated inputted by the account administrator. 
You can see an example of how this will look on your dashboard below:
Because tiles may contain different metrics, or metrics based on multiple metrics (e.g. a Custom Calculated Metric), we're currently limiting context labels for dashboards to tiles where we are able to clearly detect context. It's normal if you can't see context labels on tiles that:
Are based on a custom calculation

Contain multiple metrics

Are not conversion metrics (e.g. tiles with spend or clicks won't show a label, but tiles for purchase will)

Are too small
You can read more about metric context labels in our dashboard help center article.
Integration enhancements
Once again, our integrations team have been busy adding BrandLabs to our cost integration sources as well as integration enhancements for:
InMobi DSP

Reddit

Kochava

Snap

Appsflyer (SKAN API, Cohort API, Master API & Data Locker)

Branch

TikTok

Twitter

Applovin

Jampp

Google Ads
Stay tuned for our next product update